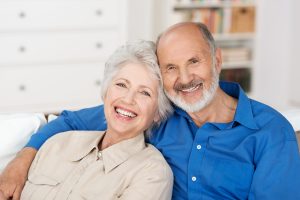 Are you frustrated by the impact tooth loss is having your day to day life? You may have had to modify your diet to work around an impacted ability to bite and chew because of missing teeth, and you may feel self-conscious about your appearance. You should know that seeking help with the problem of tooth loss can make a major difference for your oral health, and the quality of your life. Your dentist can make your smile look complete again, and you can have an easier time biting and chewing food. Your dentist can offer different prosthetic types, depending on the number of teeth you are currently missing. 
Using A Dental Bridge To Close A Gap Left By Tooth Loss
If you need to close a gap left after suffering the loss of a tooth, a dental bridge can help. Bridges offer patients a permanent restoration – a pair of crowns on the ends of your restoration can keep your prosthetic firmly in position. This level of stability means you will not have to worry about caring for a loose restoration, and you will not need to deal with it feeling unstable during the day.
Making A Major Smile Restoration By Receiving Dentures
Partial and full dentures help patients with more advanced losses rebuild their smile. With partial dentures, you are able to keep your remaining teeth, and have a custom restoration work around the gaps. Full dentures replace an entire row of teeth. With dentures, your dentist is able to give you back your full smile in less time, as a single restoration is able to make your row of teeth complete once again.
Talk To Dr. Cain About Addressing Your Issues With Tooth Loss
If you want to do something about the problem of tooth loss, reach out to Dr. Cain. With the appropriate prosthetic support, you can once again smile with confidence, and feel more comfortable practicing routine dental functions. If you wish to learn more about the prosthetic care we provide, or if you would like to schedule your appointment, call Healthy Smiles in Gary, IN, today at 219-938-2637. You can also email our office at info@healthysmilesnwi.com.