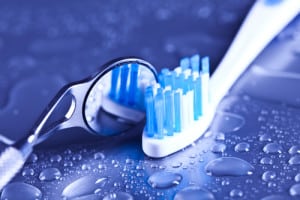 Your smile is one of the first things that people notice about you, and the ease with which you smile is one way that people size up your personality. If you are missing one or more teeth, your smile may not give the positive impression that you desire. You may not smile as easily or as frequently as you might want to, because you may feel inclined to hide your teeth. There's no need to live life with an incomplete smile. The branch of dentistry known as prosthodontics involves using dental prosthetics to replace missing teeth.
Depending on how many teeth you are missing, the location of your missing teeth, and the condition of adjacent healthy teeth, Gary IN dentist, Dr. Nicholas Cain, will choose from the following tools to improve your smile.
Dental implants. If you are missing just one or two teeth, dental implants provide a straightforward solution. Dr. Cain first will place a titanium-based metal post into your jawbone, in the space left vacant by your missing natural tooth. Once the post is secured, an artificial tooth will be screwed onto the post. The implant is created to match the color of your existing teeth and to look like your natural teeth. Once the area around the post heals, it functions just as a natural tooth does.
Dental bridges. A dental bridge is used for patients who have missing teeth that are located next to healthy teeth. Dr. Cain places crowns on the healthy teeth. These teeth serve as abutments to hold the bridge appliance (artificial teeth attached to a plastic base) in place.
Full and partial dentures. Dentures are the best solution for patients who are missing all or many of the teeth on one or both arches. Partial dentures replace some, but not all, teeth on an arch and are attached to abutments like bridges are. Full dentures replace all teeth on an arch and are held in place with suction between a patient's mouth and the plastic denture base.
Ready to Rebuild Your Smile?
After tooth loss, we can rebuild your smile with the right dental prosthetic! To schedule a consultation with Dr. Cain, contact Healthy Smiles in Gary, IN, today by calling 219-938-2637, or by emailing our office at info@healthysmilesnwi.com. We also proudly serve the residents of Gary, Miller, Miller Beach, and all surrounding communities.