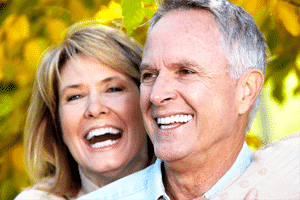 Aging, trauma, illness, decay … there are many reasons why a person may be missing several teeth. Regardless of the reason you are missing teeth, you do not need to go through life with an incomplete smile. Dr. Cain and the friendly Healthy Smiles staff want to work with you to restore your smile and, with it, your self-confidence, pride, and optimal oral function. Imagine being able to eat your favorite foods and to smile and laugh with ease, without feeling self conscious. There are many options available to replace your missing teeth.
Full Dentures
If you are missing all of your teeth, or all of the teeth on your top or bottom arch, Dr. Cain will want to fit you with a set of full dentures. Dentures are artificial teeth that are attached to a soft, pliable base. Patients slip them in as needed, and they attach to the gums via suction and, often, with specialized denture adhesives. Most patients remove their dentures at night before they go to bed. Typically, it will take several weeks from your initial appointment until your final set of dentures is ready. Dr. Cain must make impressions of your teeth and create prototypes for you to try on before finalizing the measurements. Once he is confident that the design will fit securely and comfortably, he will send the model off to a dental lab to cast your dentures. There is an adjustment period for patients who are wearing dentures for the first time, as they must get used to the feeling of the object in their mouth. In time, though, discomfort dissipates and patients adapt to their dentures and may even forget they are wearing them.
Partial Dentures
If you have one or more remaining natural teeth on your top or bottom arch, Dr. Cain will probably recommend partial dentures. The natural teeth do not need to be adjacent for partial dentures to be an option. Partial dentures are a combination of full dentures and a dental bridge. They are crafted to make use of the natural teeth that remain on the arch (thereby creating a more natural appearance.)  Partial dentures are held in place with removable clasps that snap into crowns placed on neighboring teeth. Determining how best to address missing teeth sometimes is a tough decision. Dr. Cain is happy to discuss your questions. In addition, you can discuss your candidacy for dental implants, an innovative way to secure dental crowns, bridges, and even full dentures into place using surgically implanted posts.
Which Denture Is Best?
Find out if you would benefit most from a partial or full denture by making an appointment with Dr. Cain. Contact Healthy Smiles in Gary, IN, today by calling 219-938-2637, or by emailing our office at info@healthysmilesnwi.com. We also proudly serve the residents of Gary, Miller, Miller Beach, and all surrounding communities.