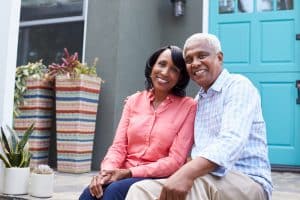 A dental bridge can permanently close the gap in your smile left by a missing tooth. This can actually be accomplished without requiring oral surgery, so patients who are less capable of undergoing surgical treatment can still have permanent support. Your bridge consists of a pontic – a replacement tooth – and a set of dental crowns. The crowns are placed over the teeth on either side of your gap. By securing them, they effectively act to permanently hold your dental prosthetic in its place. Once set, you can once again show off a smile that feels complete.
Restoring Your Complete Smile Has Cosmetic And Functional Benefits
Tooth loss creates several potential problems that you will have to endure if you ignore your need for a prosthetic. Your biting and chewing functions will be negatively affected, and this can lead to TMJ problems, as well as an excessive degree of wear and tear on teeth. Any tooth neighboring a gap left by tooth loss will face a greater risk for being lost, too. By placing a dental bridge, you regain your ability to bite and chew more naturally, and you reduce your risk for additional tooth loss. Because your bridge can match the look of your natural teeth, you will be able to regain confidence in your smile.
Paying Attention To Issues That Can Lead To Tooth Loss
Replacing a missing tooth can help you avoid further tooth loss. You can also protect yourself by improving your preventive dental care, and taking care to watch for signs of gum disease. Gum disease causes more tooth loss than any other issue for adults – if you see symptoms of it, let your dentist know before it has the opportunity to worsen.
Talk To Dr. Cain About receiving A Dental Bridge
At Healthy Smiles, you can count on expert care from Dr. Cain when you seek to restore an incomplete smile. With a dental bridge, you can feel more comfortable with your appearance, and protect yourself against oral health problems created by tooth loss. To schedule your appointment, call Healthy Smiles in Gary, IN, today at 219-938-2637. You can also email our office at info@healthysmilesnwi.com. We proudly offer our expert dental services to the residents of Gary, Miller, Miller Beach, and all surrounding areas.