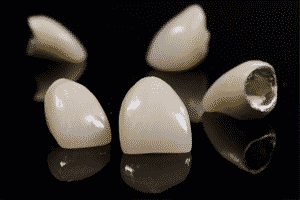 If your Gary general dentist, Dr. Nicholas Cain, finds tooth decay in one or more of your teeth, he will need to evaluate how extensive the decay is before determining which restorative approach to take. In situations where tooth decay is significant, but not significant enough to warrant root canal therapy or full extraction, he probably will place a dental crown. Where dental fillings are applied to part of a tooth, dental crowns cover the entire visible portion of a tooth. Crowns also may be used to save and protect a tooth that has been cracked, worn down, or damaged by something other than decay. Crowns can be used to halt the deterioration caused by tooth decay before it becomes serious enough to warrant a root canal.
In his practice, Dr. Cain uses the following five types of crowns:
All-ceramic crowns. Because these tooth-colored crowns are the most natural-looking option, Dr. Cain often uses them on the front teeth. The drawback is that they aren't as strong as other options and are not the best choice for back teeth, an area which must sustain a great deal of pressure.
Metal crowns. Strong, durable, and long-lasting, metal crowns are made from metal alloys that may include gold, palladium, nickel, or chromium. Because they are dark in color, Dr. Cain typically uses them on the back molars, which are less visible when a patient talks and smiles.
Porcelain-fused-to-metal crowns. Porcelain-fused-to-metal crowns, as the name implies, are metal crowns topped with a porcelain layer tinted to match your natural teeth. Dr. Cain uses them on front and back teeth. They offer natural-looking translucence and coloring and a high level of strength. Drawbacks of this type of crown include that the sections of the porcelain may chip off to reveal the underlying metal, and if gums recede, the metal under the porcelain layer may be exposed at the gum line.
Zirconia crowns. This type of crown is made of zirconia, which is an extremely durable type of dental ceramic. Zirconia dental crowns offer an exceptionally high level of strength and a more natural appearance.
CEREC One-Visit Crowns
Dr. Cain is proud to introduce the revolutionary CEREC one-visit crown milling machine. Using 3D imaging technology and computer assisted design software, Dr. Cain can plan, fabricate, and place a custom-fitted porcelain or zirconia crowns here in the office. These beautiful, highly realistic crowns can be placed in a single visit and help you avoid the need for temporary crowns. To find out if you qualify for a CEREC crown, contact Healthy Smiles in Gary, IN, by calling 219-938-2637, or by emailing our office at info@healthysmilesnwi.com. We also proudly serve the residents of Gary, Miller, Miller Beach, and all surrounding communities.