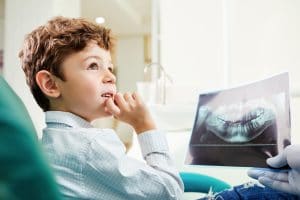 In our last blog, we took a look at how dental sealants can benefit little smiles in Gary, IN. Today, we would like to continue this conversation, covering the importance of a routine checkup and cleaning for children of all ages. Routine preventive care not only allows us to address cavities before they threaten smiles, but to also identify other common oral health issues.
Checkups For Little Smiles
When your child's first baby tooth arrives, usually around age one, you should bring him or her in to see us. We can make sure teeth are erupting properly, and discuss steps for protecting teeth from cavities. As your child, grows, routine checkups and cleanings every six months will become important, allowing us to monitor the smile's growth and development, and identify possible areas of concern in the earliest stages. These visits also help your little one become accustomed to the dentist's office, which help instill good habits and could reduce the risk of dental anxiety in adulthood.
Our team will also clean the teeth during these visits. A cleaning is a short and comfortable procedure in which we use a manual tool and possibly an ultrasonic scaler to remove all plaque from the teeth. A bacterial byproduct, plaque, could cause the onset of tooth decay and gingivitis unless removed. The procedure also brightens teeth and helps freshen breath.
Fillings, Orthodontics, and More
If we discover a cavity, even in a baby tooth, then a filling is necessary. Otherwise the tooth could become infected and lost prematurely, which impacts overall alignment as the permanent teeth begin to arrive. Eventually, your child could require braces! However, a filling stops decay and discomfort instantly. For poor alignment, we can discuss orthodontic treatments to improve alignment and prevent oral health complications. For children with a high risk of tooth decay, we may apply a fluoride varnish to the teeth. Fluoride is naturally-occurring mineral, one that actually strengthens outer tooth enamel to help prevent the onset of tooth decay. We can apply fluoride in your child's checkup and cleaning visits.
Homecare
You also need to make sure your child is caring for his or her smile at home. We will discuss proper brushing and flossing, as kids need to brush twice a day and floss every night before going to bed. Try to also offer your kids healthier snack and drink options and cut back on items high sugar. If you have any questions about protecting little smiles, or if you would like to schedule their next checkup and cleaning, then contact our team today.
Schedule Your Child's Exam
We would love to help your child enjoy optimal oral health with routine preventive care. To learn more about children's dentistry, schedule your visit with Healthy Smiles Family Dentistry in Gary, IN, today by calling 219-938-2637.