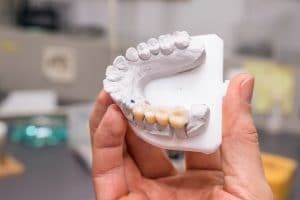 Have you lost a tooth, or up to three in a row? If you suffer from tooth loss, then you need a replacement option to avoid misalignment and other complications. In today's blog, we're looking at how we address minor tooth loss with lifelike dental bridges. Find out how we restore the stability and beauty of smiles in Gary, IN, with a natural looking prosthetic.
The Risks of Tooth Loss
Tooth loss isn't just a cosmetic issue. Without treatment, losing one or more teeth could lead to serious complications for your oral health. For example, the gap in your smile may cause surrounding teeth to drift from position, causing misalignment. Poor alignment has been linked to an increased risk of tooth decay and gum disease, as uneven teeth provide hiding places for food particles that a tooth brush or floss may not reach. In addition, you may have trouble eating or speaking clearly, and tooth loss could lead to poorer quality of life as you avoid social interactions due to embarrassment. Don't let the health of your smile, and your overall quality of life, suffer due to missing teeth.
Creating a Dental Bridge
For patients with between one and three lost teeth in a row, we may create a dental bridge. We begin by prepping the smile, which means removing structure from the teeth on either side of the gap in your smile. We take detailed impressions and measurements of your smile, which we use to design and craft the prosthetic. The bridge consists of the new teeth, with crowns on either side. The crowns will be placed onto the teeth on either side of the gap. The crowns secure the new teeth, and with proper care and attention, your bridge could last as long as 15 years!
Preserving Your Prosthetic
The key to ensuring a long-lasting prosthetic is to take care of your smile. You should brush and floss your natural teeth, as well as your new ones. Also, be sure to clean the space between the top of the gums and the bottom of the prosthetic, where food particles could become trapped. Make time to see us every six months, so we can monitor both your natural teeth and your prosthetic. We also clean your teeth, which removes plaque and protects your smile from decay, infection, and periodontal problems. If you have any questions, please contact our team today!
Do You Have Questions About Replacing Missing Teeth?
We want to help patients with tooth loss enjoy a full and healthy smile. To schedule an appointment with your dentist, contact Healthy Smiles in Gary, IN, by calling 219-938-2637, or by emailing our office at info@healthysmilesnwi.com. We also proudly serve the residents of Gary, Miller, Miller Beach, and all surrounding communities.