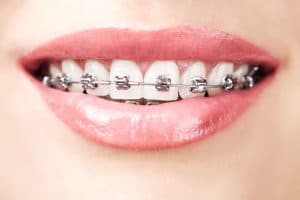 If you have crooked or crowded teeth you may feel embarrassed about your smile's appearance. In addition, the overall health can suffer as well. Fortunately, we can improve oral health by straightening your uneven smile with orthodontics.
How Misalignment Impacts Oral Health
When you have an uneven smile, there are plenty of places for food particles to become trapped between teeth. Even if you brush and floss, you can have difficulty reaching these places, which increases the risk of tooth decay and gum disease forming as bacteria break down these trapped particles. Misalignment can also place pressure on the jaw joints, in turn making the risk of TMJ disorder and bruxism (teeth grinding) more likely to occur. Finally, embarrassment due to the appearance of your smile can cause you to feel uncomfortable smiling and have a negative impact on your quality of life.
How Do Braces Work?
With braces, we apply metal brackets to the front facing sides of your teeth and the connect them with an arch wire. In periodic visits, we will adjust the tension of the arch wire, which gradually reposition the teeth. Treatment time depends on the cause and extent of your misalignment and can last anywhere between 18 months to two and a half years. However, at the end of your treatment you can enjoy a  straighter, healthier smile you'll be proud to show the world.
Caring For Your Smile During Treatment
When wearing braces, you should avoid sticky or hard foods, as these can become trapped in your braces or possibly damage them. Brushing and flossing, which will admittedly be a little trickier, is still vital. You should also cut back on sugary foods and drinks as these can promote stains, leaving behind bright spots where your brackets were when you have your braces removed.
Does Your Smile Need Orthodontics?
We can use braces to help you enjoy an even, beautiful smile. To schedule an appointment with your dentist, contact Healthy Smiles in Gary, IN, by calling 219-938-2637, or by emailing our office at info@healthysmilesnwi.com. We also proudly serve the residents of Gary, Miller, Miller Beach, and all surrounding communities.