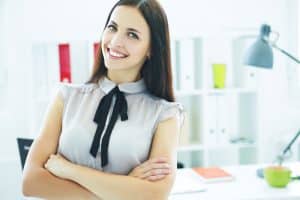 The color of our teeth can have a big impact on how we feel about our smile, and our appearance. Patients who come in seeking cosmetic dental care for problems with the color of their teeth can assume they need help in the form of a whitening treatment. While this is often the case, some patients will be better served with a different approach. Your dentist can help you figure out what the best approach for you is during a cosmetic consultation. If you need care for intrinsic discoloration, they can help you find an answer for your issue that leaves you with a stunning smile.
Using A Professional Whitening Treatment To Address Teeth Stains
Many people will find that a whitening treatment offers exactly the kind of results they need. Many people wind up with discolored teeth because stains have built up over time. You can choose between a whitening treatment you take home, or one that your dentist provides for you during a scheduled appointment. The appointment can mean having results in less time, but a whitening treatment performed at home can be more convenient for some patients.
Using Other Cosmetic Dental Treatments To Make Your Teeth Whiter
If you have problems that relate to intrinsic discoloration, or if you are looking to improve more than just the color of your teeth, you may want something other than a whitening treatment. Placing porcelain veneers on teeth can help you to hide intrinsic discoloration. Their presence can also help you deal with problems like chips and cracks, as well as developmental flaws.
Count On Care From Dr. Cain To Help You Deal With Dental Discoloration
If you want to find an answer to smile flaws created by dental discoloration, Dr. Cain can help. You can undergo a professional whitening treatment, but if this is not the best choice for you, you can learn about other forms of cosmetic care that can lead to great improvements to how you look. We offer a range of services to our patients in Gary, Miller, Miller Beach, and all surrounding areas. To schedule your appointment, call Healthy Smiles in Gary, IN, today at 219-938-2637. You can also email our office at info@healthysmilesnwi.com.