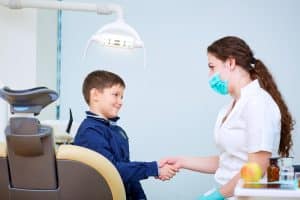 Is your child ready to start dental visits? Your child's smile will go through no small number of changes over the years. Their primary (baby) teeth will start to arrive, only to be lost, and replaced with their secondary (adult) teeth. During this time, their jaw is also growing and developing. The dental appointments that occur early in your child's life are important because they allow your dentist to monitor their growth and development, and watch out for any worrying issues. These visits also help acclimate your child to the dentist's office, which can make it easier for them to come in for routine visits over the years. Of course, it is also worth noting that children – like adults – benefit from the standard dental care provided in a checkup, as checkups can make it easier for them to stay cavity-free.
Early Dental Visits Can Important Benefits
Your child may be nervous about coming in for their first checkup. Your dentist is aware of this, and will go out of their way to make their office the most warming and welcoming possible environment. When children have positive initial experiences, they can have an easier time coming in for future visits, and dealing with news they will need to have restorative dental work done.
Dealing With Your Child's First Cavity
Hopefully, your child will transition to adulthood without ever having a cavity. Unfortunately, not every kid is fortunate enough to do this. Regular checkups will make the prospect of restorative dental care less daunting for your child – they will already be well-acquainted with their dentist, and their office. Dental visits also make it possible to catch cavities sooner, so the restorative work they receive can be less involved.
Talk To Your Dentist About Starting Your Child's Regular Dental Visits
Starting dental visits at a young age can benefit your child's oral health in many ways. Because young children can be nervous about new experiences, Dr. Cain will strive to ensure they feel comfortable coming in for their initial appointment, and during future visits. To schedule your appointment, call Healthy Smiles in Gary, IN, today at 219-938-2637. You can also email our office at info@healthysmilesnwi.com.