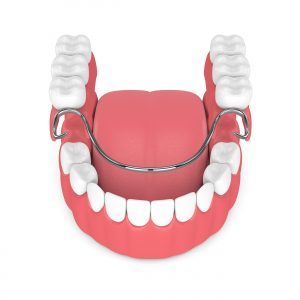 While nearly anyone you ask will respond that a lifelong smile is a top goal or priority, the fact of the matter is, unfortunately, that our grins really do endure a significant amount of damage over the years. Indeed, from decay caused by foods or beverages in our diet to infections caused by sub-optimal preventive care, a number of other factors contribute to your oral health, meaning that only focusing on brushing is simply not going to cut it. In today's blog, your Northwest IN dentist will take a look at the negative effects of spreading decay, and how custom dentures can help restore your bite's function.
Varying Degrees of Tooth Loss
More often than not, the cause for losing one or more oral structures is not to do with dental emergencies or cracking a tooth, but with harmful oral bacteria that lurk within the mouth. Indeed, these bacteria are present in everyone's smile, and it is up to us to take the initiative and practice excellent oral hygiene to keep them from wreaking havoc on our teeth.
In its earliest stages, decay presents itself as a small cavity formed by oral bacteria that have remained and actively worked to break down healthy structures. If left untreated with restorative dentistry, this hole will continue to get larger and larger, first by spreading inward and infecting your root canals, then ultimately until your entire tooth is compromised. When even a root canal procedure cannot help prevent the progression of decay, your next best option will be to have the compromised structure extracted.
Partial or Full Dentures
Another important factor to consider is that when dealing with tooth loss, you are more likely to lose more surrounding structures, especially if you do not seek restoration. It will often begin with one, then the surrounding teeth, then groups of them until finally all structures are gone and your oral function has been compromised. To address this, our office offers treatment options for many stages in the process. Whether you are seeking a single dental implant, a bridge to address multiple adjacent missing structures, or even a partial or full set of dentures to address multiple or all missing teeth, we have you covered. For more information about this process, contact our team today.
A Lifelike Appearance
Aside from the need to restore function, having a custom restoration that resembles your natural smile is a necessary confidence booster that many individuals fear cannot be accomplished with dentures. On the contrary, however, our team will work with you to provide highly-lifelike, custom solutions to ensure your satisfaction with your restored grin.
Learn More Today
For more information about addressing decay at various stages or to schedule your visit with our team, contact Healthy Smiles in Northwest IN by calling 219-938-2637 today.