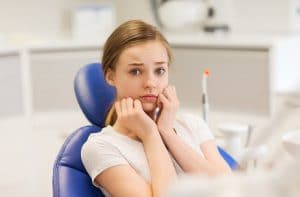 Seeing the dentist every six months is vital for protecting your smile from tooth decay, gum disease, and other serious oral health issues. However, sometimes people don't find time to see the dentist, or may even avoid visits due to anxiety. Over time, this could lead to serious problems, from infected teeth to tooth loss. In order to help anxious patients obtain the care they need, we may suggest dental sedation.
Dental Anxiety
Studies show that between 8% and 15% of the population experience some form of dental anxiety. For some, this could be butterflies in the stomach while sitting in the waiting room. For others, this could be sheer terror. Anxiety could be based on lack of experience, such as never really seeing a dentist as a child, or due to a bad experience at a dental office. If you have a fear of the dentist but are tired of seeing your smile's health and appearance deteriorate, then please let us know. We will want to work with you to offer a comfortable, relaxing visit and help you on the way toward a healthier smile.
Nitrous Oxide and Oral Sedation
We may two very different options available. The most commonly used is nitrous oxide, known as laughing gas. We administer the gas through a mask over the nose. The patient enters a calm and relaxed state. They will be able to respond to the dentist, but will have little to no memory of the procedure. Afterward, the effects of the mild sedative wear off quickly and the patient returns to work or school. With oral sedation, we offer a deeper form of conscious sedation. The patient takes a pill hours before the procedure, avoiding any heavy meals in the six to eight hours before the procedure. They enter a much deeper state, but again with no memory of the procedure. The effects will take time to wear off, so you may need a friend or family member to bring you home afterward.
Which Do We Choose?
We look at a number of different factors before we prescribe one, or a combination of the two, for a patient. For example, we look at what procedures we will be performing, the level of anxiety a patient expresses, and the person's medical history. We then find the right option for them.
Do You Feel Nervous About Seeing the Dentist?
If you suffer from a fear of the dentist, then contact our team today. To schedule an appointment to discuss improving the health and beauty of your smile, contact Healthy Smiles in Gary, IN, by calling 219-938-2637, or by emailing our office at info@healthysmilesnwi.com. We also proudly serve the residents of Gary, Miller, Miller Beach, and all surrounding communities.