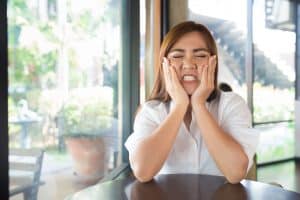 A habit of grinding your teeth while you sleep is certainly not going to help you enjoy your mornings. Patients who are dealing with bruxism will routinely wake up and find themselves dealing with sore teeth, as well as pain in their jaw and face. Unfortunately, the oral health troubles associated with bruxism last longer than the morning. If you let this problem go unaddressed for too long, your teeth can suffer real harm. TMJ problems that develop because of a teeth grinding habit can cause you real pain, and limit your ability to operate your jaw. Your teeth can eventually suffer serious damage when you grind them, making restorative dental care necessary.
Why Bruxism And TMJ Problems Are Often Linked
Bruxism can lead to TMJ problems, and existing TMJ problems can lead to bruxism. Luckily, your dentist is prepared to help you recover from these conditions. With a special mouth guard (one that is made specifically to fit you), your dentist can stop you from grinding your teeth, and help your jaw rest more comfortably.
Having A Full Oral Health Review During A Preventive Checkup
You might not realize it, but your dentist is checking you for signs of bruxism and TMJ trouble during routine dental exams. At each visit, your dentist is checking for any number of problems, not just cavities. If they notice wear and tear on your teeth, or find that you are experiencing pain or limited motion in your jaw, they can respond by offering the appropriate treatment. Every visit will also include a dental cleaning, which can offer important help by removing cavities.
Is Bruxism Creating Oral Health Problems For You? Talk To Dr. Cain!
Tired of waking up with sore teeth and a sore jaw because of bruxism? Let Dr. Cain know! You can receive care that protects your smile from this harmful habit. If you have existing damage caused by bruxism, Dr. Cain can offer help by restoring the condition of any damaged teeth. To schedule your appointment, call Healthy Smiles in Gary, IN, today at 219-938-2637. You can also email our office at info@healthysmilesnwi.com.