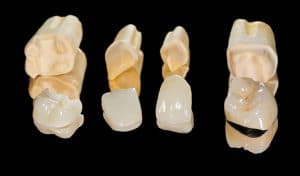 When a patient comes to us with a broken or cracked tooth, or advanced decay or an infection, then we may recommend a dental crown. There are several materials we may use, depending on the area of placement and the issue we're addressing. In today's blog, we're going to look at the different materials we use to create a custom-made dental crown.
Placing a Restoration
We begin by preparing the tooth, removing a small segment of structure and then taking detailed impressions. We use the impressions at a dental lab to design and fabricate the dental crown from the material we've selected. Once complete, the patient returns for a second visit. During the visit, we check the fit of the restoration, make any necessary adjustments, and then place the completed dental crown using a powerful bonding agent. On average, placing a detailed crown take about two visits.
Ceramic and Zirconia
For more natural looking restoration, we may recommend ceramic. This is a perfect choice for the front facing teeth, as ceramic mimics the translucent nature of tooth enamel and can be shaded to match surrounding teeth. For the teeth near the back of the mouth, which must endure greater bite forces and pressure, we may use a much strong form of dental ceramic known as zirconia. Again, the completed restoration will look natural and blend with the smile.
Metal and Porcelain-Fused-to-Metal
For greater strength, we may often create a restoration from metal. To ensure the strength of metal while also providing a more natural appearance, we can provide a porcelain-fused-to-metal option. If you have any questions about creating and placing one, or about the materials we use, then contact our team today. Remember, we can use them to improve the function, health, and beauty of your smile.
Learn More About the Benefits of Dental Crowns
We can repair teeth and restore the health and function of your smile with a custom-made and lifelike restoration. To schedule an appointment with your dentist, contact Healthy Smiles in Gary, IN, by calling 219-938-2637, or by emailing our office at info@healthysmilesnwi.com. We also proudly serve the residents of Gary, Miller, Miller Beach, and all surrounding communities.